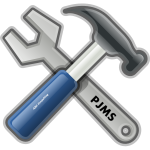 PJMS – Professional Job Management System
PJMS  is an advanced task management application. With advanced features such as email auto task creation (with detailed field mapping), Smart Phone applications, Quoting, Order and  Project Management.

Customer Details
Maintain your Prospect, Customers and Customer Sites using PJMS
Prospects – Customers you have quoted, but no work has been performed. this helps keeps your active customer database clean.
Customer Sites – Customer you do work for on behalf of another customer. This allows for the site to become a potential customer.
Supplier Details
Maintain your suppliers for Purchase Orders, External Contractor Work and Tenders.
Quotes
Build simple or detailed quotes.
Quote items can allow calculation to be stored behind what the customer sees. Keep your quote information simple for the customer but provide a work break down internally.
Projects
Keep track of all quotes and tasks related to a project.
Tasks
Advanced dashboards to help you keep on top of all tasks
Task document and photographs
Raise purchase orders and send off tenders
Complete check lists (eg Take 5)
Complete time sheets
Purchase Orders
Maintain purchase orders with suppliers or external contractors.
Tenders
Send tenders to Suppliers and External Contractors
Risk Management
Risk incidents
Other Features
Advanced Search
PJMS Provides an advanced search feature.

Contact Us for pricing and information
---
Mobile Application
PJMS Mobile allows staff to view task information, clock on and off, and capture customer signature.
Access to PJMS Mobile requires a licensed instance of PJMS